Available
machinery and equipment
CNC JIG GRINDERS
Hauser S50-CNC311 bridge type, 34x40 table, 36" X table travel, 24" Y grinding head travel, 25" W cross beam travel, $70K upgrades in 2004 to hold 70 millionths, new GE Fanuc 21iM control, dual chop grinding, recertification 2007, dual stroke, new scales, milling attachment, used for about 10 holes in past 12 years, repriced $54500 lower
MANUAL JIG GRINDERS:
1990 Moore G18, est under 1000 hours, looks sharp, cream color, Moore DRO system, spraymist, 40K spindle, optional tooling available, latest/nicest on market, repriced $7400 lower 1/9/08 (#1968)
1984 Moore G18, power "X" longitudinal table feed, chop grinding, Superior Electric Slo-Syn preset indexer, dust suction system, 60K spindle, Kool Mist spray mist, Moore DRO system, optional tooling available, looks sharp, repriced $5000 lower 1/9/08 (#1970)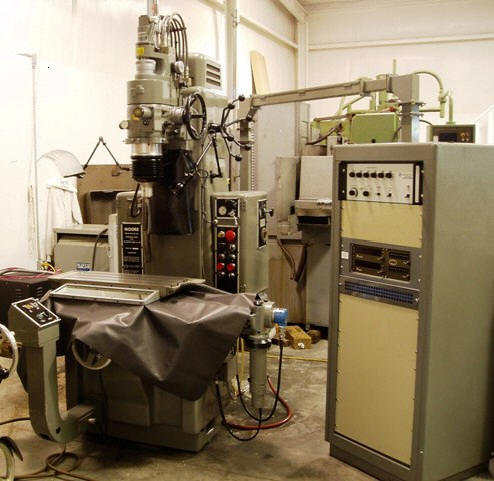 1981 Moore G18, 40K spindle, estimated 6000 hours use (#1926)
1972 Hauser #3SM, 2 heads, scope
1969 Moore #3, 40K spindle
1966 Moore #3, 40K spindle (#1963)
1956 Moore #2, upgraded Ross air valve, very clean, no spindle but we have them in stock (#1728)
19?? Moore #4 G32
MANUAL JIG BORERS:
1987 Moore #3 JB-18, very low hours, looks mint, Sony DRO system, huge assortment tooling included, repriced $4550 lower plus tooling is now included (#1674)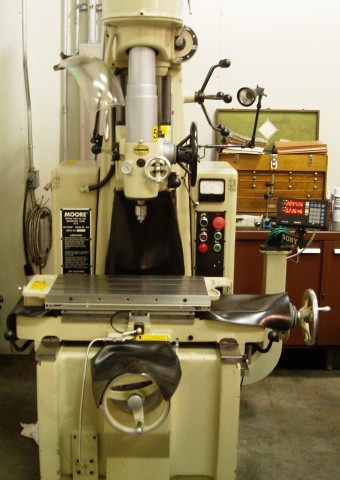 2000 Mitsubishi EA12 cnc conventional ram electrical discharge machine, 28x20 table, 37x24x14 drop worktank, 15.7x11.8x11.8 travels, 8 position ATC, 60 amp FP60EA power supply, pendant remote control, very nice sub-table included, chuck not included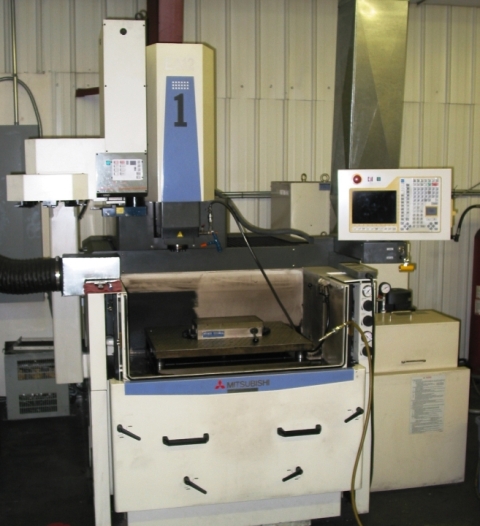 1999 Acer Supra AGS618 surface grinder, recip table, horizontal spindle, 6x18 capacity, owner will locate chuck, dust suction scoop, $1200 net owner will load FOB
1988 est Lagun FTV-2S vertical turret mill, 2HP, 50x10 table, 50-4200 rpm, power drawbar, Sony DRO, table powerfeed, $4500 net owner will load FOB
DeVlieg 3H-72 Spiramatic Jigmil, owner states original owner was Moore Special Tool, 35x72 table, about 48-50" Z, 1962, updated in about 80s with Dynapath Systems 10 CNC, Allen-Bradley PLC4 Microtrol, ballscrews, in plant, not under power/never run at this plant, tooling shown in pics not included, owner cannot load
Herbert-DeVlieg 3H-48 Spiramatic Jigmil, s/n plate missing, 48x35 table, optionally available 30x30x8-1/2" airlift rotary table, 120cm l/r travel mechanical scale, about 36" z mech scale with 48" digital scale, 25-1200 rpm, AcuRite and Sony DROs 0.0002, in plant, under power, tooling shown in pics not included, owner cannot load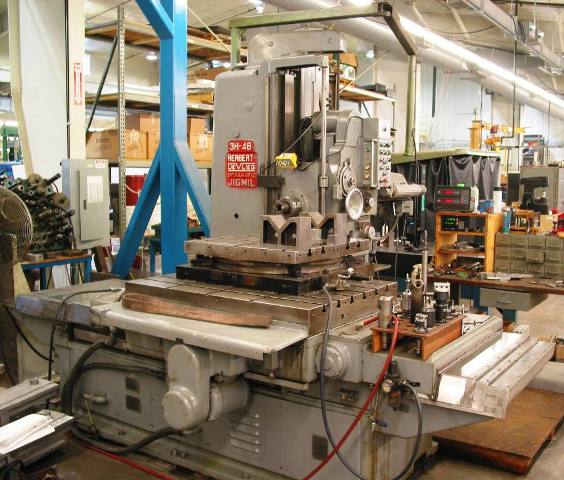 16x48 Magnalock HG1648 electromagnetic chuck, 230 vda, 1.7 amps, w/o controller
4 Mitsui MSG-200MH surface grinders, Sony dro, Walker chuck
2 Sullair 10HP rotary air compressors, vertical tank
1973 Favretto TA60 surface grinder, 3 axes automatic, 39-1/2" x 11-3/4" table, 13" x 1-1/2" wheel, coolant, varispeed longitudinal, varispeed crossfeed, incremental downfeed
Sharp HMV vertical mills
Sharp LMV vertical mill
Two Torit VS1200 dust collectors
Deckel GK21 pantograph, tooling
1991 Charmilles Robofil 4000 cnc wire edm, 5 axes, auto wire threader, Charmilles generator, pendant controller, in use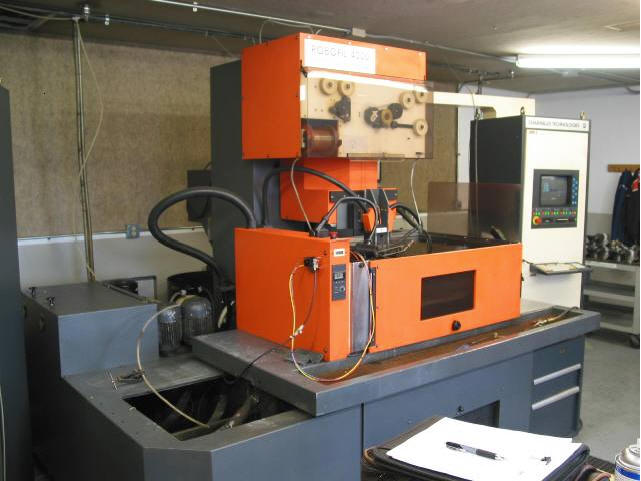 Mitutoyo coordinate measuring machine model AE122 10/10, 28-1/2" L/R x 25-1/2" F/B x 17-3/4" tall capacity
Herman 3' x 4' x 8" grade "A" granite, 3" ledge all around, stand on wheels
Cincinnati Toolmaster vertical mill, 10x42 table, 2HP, 9 speed HD power longitudinal table feed
Grob NS18 vertical bandsaw, blade welder, 18" throat, 24x24 table, 9-3/8" below guides
Hardinge HCCF lathe, 125-3000 rpm varispeed, varispeed carriage/feeds
Rockwell tester #3JR with accessories
Pratt & Whitney Supermicrometer G2100 with Electrolimit meter
Our extensive inventory of Moore jig grinder accessories, attachments & tooling is listed under our Used Tooling section.
Moore jig grinders - 81 sold so far!
Professional Instruments "Block-Head" 4R air bearing spindle, 10K rpm, radial load capacity: 100# ultimate, 50# working, generous mounting surfaces, extremely rigid assembly, full specifications at www.airbearings.com/4r.htm, replaces at $4,700 plus fixturing, over 6000 units in use, $1950, #1654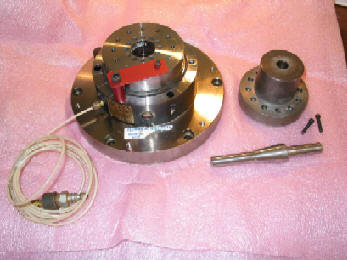 Numerous 8K, 9K, 40K, 55K, 60K, 120K and 175K rpm air grinding spindles for Moore jig grinders in our Used Tooling section
Moore jig grinder tooling and machine repair parts
New printed circuit boards (nine) and servo motors w/cables (two) for Comweb/Gromax Orbitcut controls for electrical discharge machines
Bridgeport mill #SAR-16-P arbor (code #2470087), 1" diameter x 15-7/32" overall, R-8 taper, with three 2" and two 3/4" spacers permits use of "2J" or "J" head in vertical position for cutting slots or side milling
System 3R electrical discharge machine tooling for conventional ram type electrical discharge machines, 20mm electrode shanks, chucks, toolholders, adapters, chuck control, Eltee-Pulsitron flushing fixtures, control rule, indicating spindles, collet chuck, control rod, tapered SNT holders, three Erowa chucks, and Eltee-Pulsitron flushing fixtures. Most are used; some are new. Priced list of 200+ piece inventory on request.